NATIONAL

CADET

CORPS
The National Cadet Corps (NCC) is a youth development movement. It has enormous potential for nation building. The NCC provides opportunities to the youth of the country for their all-round development with a sense of Duty, Commitment, Dedication, Discipline and Moral Values so that they become able leaders and useful citizens. The NCC provides exposure to the cadets in a wide range of activities with a distinct emphasis on Social Services, Discipline and Adventure Training. The NCC is open to all regular students of the college on a voluntary basis. The students have no liability for active military service. The National Cadets Corps came into existence under the National Cadet Corps Act XXXI of 1948 (passed in April, 1948; came into existence on 16th July, 1948). The motto of NCC is:" UNITY AND DISCIPLINE
NCC Motto
The Motto of the NCC is 'UNITY AND DISCIPLINE' which was adopted on 23 Dec 1957.
AIM OF NCC
The aims of NCC as approved by MOD in Mar 2001 are as under:
To Develop Character, Comradeship, Discipline, Leadership, Secular outlook, Spirit of adventure, Sportsmanship and Ideals of selfless service among the youth of the country.
To Create a Human resource of organized, Trained and Motivated youth, to provide leadership in all walks of life and always be available for the service of the nation
To Provide a suitable environment to motivate the youth to take up a career in the Armed Forces
NCC Organisation
A Director-General heads the National Cadet Corps, an Army Officer of Lieutenant General's rank, responsible for the National Cadet Corps' functioning in the country through the National Cadet Corps Headquarters, Delhi. At the State Level, the country has been divided into 17 Directorates covering all States and Union Territories. Each of the State National Cadet Corps Directorate Headquarters controls two to fourteen Group Headquarters. While Brigadiers or their equivalents command directorates, the Groups are commanded by Colonels or equivalents from the Air Force and the Navy. NCC Units are commanded by Major/Lieutenant Colonel or their equivalents.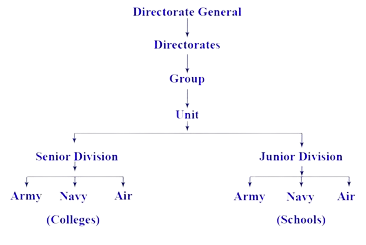 NCC SONG
HUM SAB BHARTIYA HAI, HUM SAB BHARATIYA HAI
APNI MANZIL EK HAI,
HA HA HA EK HAI, HO HO HO EK HAI,
HUM SAB BHARTIYA HAI
KASHMIR KI DHARTI RANI HAI, SARTAJ HIMALAY HAI
SADIYON SE HAMNE ISKO APNE KHOON SE PALA HAI
DESH KI RAKSHA KI KHATIR, HUM SHAMSHEER UTHA LENGE
HUM SHAMSHEER UTHA LENGE
BHIKRE BHIKRE TARE HAI HUM LEKIN JILMIL EK HAI
HA HA HA HA EK HAI, HUM SAB BHARTIYA HAI
MANDIR GURDWARE BHI HAI YAHAN, AUR MASZID BHI HAI YAHAN
GIRJA KA GHADIYAL KAHIN MULLA KI KANKHI HAI AJHA
EK HI APNA RAM HAI, EK HI ALLAH THALA HAI
EK HI ALLAH THALA HAI
RANG BIRANGE DEEPAK HAI HUM, LEKIN MAHAFIL EK HAI
HA HA HA EK HAI, HO HO HO EK HA
HUM SAB BHARTIYA HAI, HUM SAB BHARTIYA HAI
Eligibilities for Certificate Examination
For "A" Certificate Examination(Junior Division)
Must be in the Second year of NCC
Must have attended an Annual Training Camp
The candidate must have attended a minimum of 75% of total Training periods laid down in the syllabus for the first and second years of Junior Division/Wing NCC(All wings)
Break in the NCC Service of the cadet before he appears. In the examination 'should not exceed more than 12 months at one time, to count his previous service. In case the break exceeds 12 months, the following procedure will be adopted
"If he has been on the unit rolls for a minimum of two years before his discharge and had attended 75% of the total period during his NCC Service, he will need another 45 periods of training to become eligible for a certificate 'A' examination. In all other cases where the above conditions are not fulfilled, the cadet must attend a minimum of 75% periods of the first and second year of training".
– Mr.S.Senthilkumar, B.Tech.,(Associate NCC Officer)
First Batch Cadets (2022-23)